BUILT ON FIRM FOUNDATIONS
Decker Concrete works with residential, commercial, and agricultural concrete.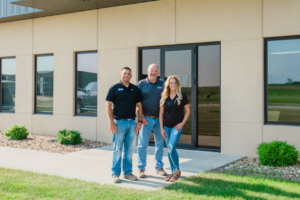 Decker Concrete, Inc. specializes in place concrete construction. Based in Dyersville, Iowa, the company covers but is not limited to, the eastern Iowa region.
Over the years, Decker Concrete has been involved in all types of concrete construction including residential, commercial, retail, and agricultural projects.
Decker Concrete is geared towards driving quality. We can deliver a timely, quality product using advanced technology and other high-end resources. We aim to provide a product that will give customers a high-quality experience and a complete concrete package.
With the recent addition of project management services, Decker looks to continue assisting with commercial and residential projects. We aim to be high communicators to assist in managing contractors throughout a project. Our mission is to implement professionalism, safety, and commitment throughout the design and construction of both commercial and residential projects.
With over two decades of concrete experience, Decker Concrete is one of the leading concrete companies in Eastern Iowa.